Valtellina, bresaola's land of origin
The land of production in the Sondrio province: mountain air and genuineness for a PGI cold cut
The perfect climate for bresaola
Alpine freshness, the flavour of nature
Valtellina is the land of bresaola, a cold cut of ancient origins, which thrives in this valley and neighbouring Valchiavenna – where it is likely to have originated – thanks to optimal conditions that bring out all its qualities.
Today the territory of the Sondrio province is still the typical area for Valtellina bresaola production, in the heart of the Alps, where the ventilated climate, fresh, dry air and mild summer temperatures give rise to perfect conditions for bresaola ageing. The action of nature is enhanced by human hands, which carry out all the necessary preparation steps: precise and codified rituals of centuries-old tradition and artisan skills passed down from father to son, for nourishing, light and authentic Valtellina bresaola.
Here, in the heart of Valtellina and its culinary tradition, Del Zoppo bresaola comes to life.
Meat preparation and production process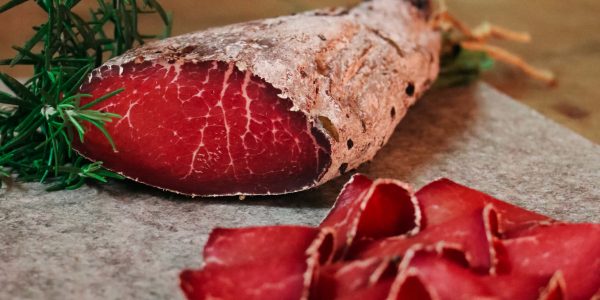 High quality meats and cuts
Prime choice meat from certified farms and selected livestock breeds reared free range and in pastures, from 18 months to 4 years of age. The noblest meat cuts are obtained from beef thigh: topside, silverside, eye round and bestend, the finest of cuts. Only these prime cuts can be used to make Valtellina bresaola.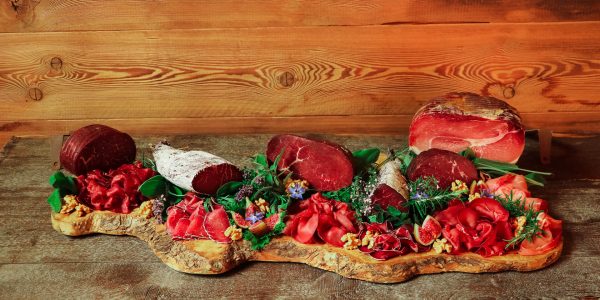 Salt, spices, herbs and skilful massage techniques
Each cut of meat is dry salted after meticulous trimming. A blend of spices and natural flavourings (including mountain herbs, wine and Himalayan salt, according to the recipe), called the curing blend, is specially prepared, with the delicate and skilled dosing of ingredients. The meat cuts are massaged and turned over for two weeks, so that the salt evenly works its way into the pulp, giving rise to the typical flavour of bresaola.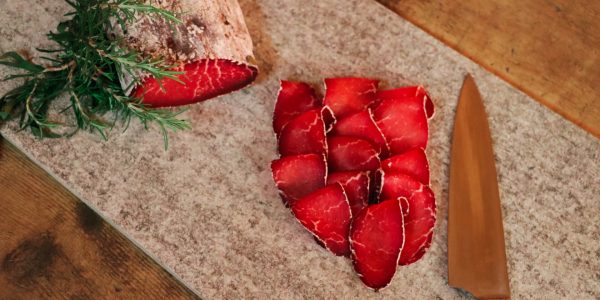 Dehydration and evaporation
Once salted the meat is cased in natural bladder and dispatched for drying in special cells, where a rapid dehydration process takes place at controlled temperature, from 20° to 25° C, with low relative humidity (55-60%). This is an extremely delicate phase, in which the skill and knowledge of our specialised technicians are crucial for the correct drying of bresaola, without the formation of spots or dark external colouration. On average drying lasts one week and is followed by ageing.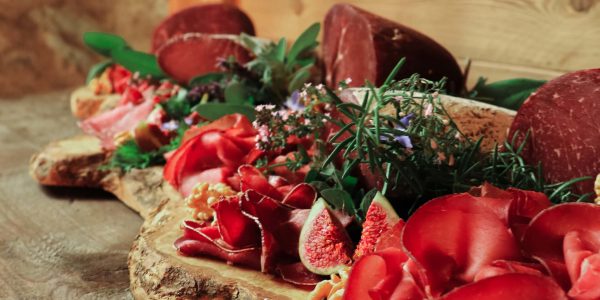 Rest and ageing in the mountain air
Ageing it the period in which the unique organoleptic, nutritional and flavour properties of bresaola emerge. It takes place in special, spacious and ventilated rooms, in which the ideal conditions for ageing are kept at temperatures of 12° to 18° C and humidity levels from 80% to 85%. The length of bresaola ageing varies according to desired product type and size, although it is never less than 4 weeks and generally lasts for more than 2-3 months. During this time, the cuts are left to rest in the air of Valtellina and develop the typical texture and unmistakable fragrance of the most authentic bresaola.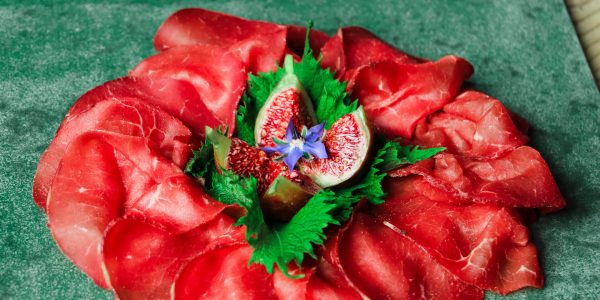 Whole or pre-sliced and vacuum-sealed
After ageing, bresaola is ready to be packaged and distributed to stores. Del Zoppo bresaola is available in different sizes and packaging solutions: whole (natural or vacuum packaged), portions, sliced in preformed or thermoformed trays in atmosphere. In all cases, the precious qualities of products remain unaltered until the moment of consumption.
Discover all Del Zoppo bresaola
Gluten-free bresaola, free from milk derivatives, traditional and special bresaola of Valtellina and Valchiavenna, silverside bresaola, Black Angus bresaola, bresaola made from Italian meat: all our products, made with passion and quality.